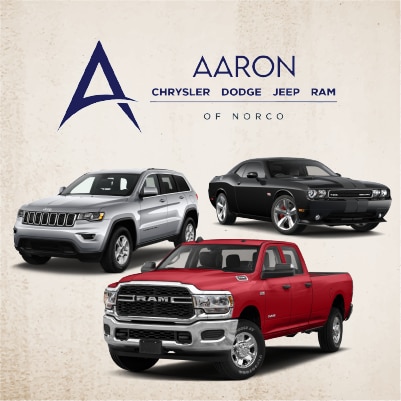 In today's market, there are so many choices to make when purchasing a car. It can be challenging to know where to start or even what you're looking for. That's where Aaron CDJR comes in. We have an incredible selection of new and pre-owned cars, trucks, and SUVs for you to choose from, and our expert staff is here to help you find the perfect one for your needs. With our huge inventory and unbeatable prices, we can help you get the car of your dreams – without breaking the bank. Stop by Aaron CDJR today and let us show you how easy it can be!
Based in Riverside, California, Aaron CDJR is your one-stop shop for quality cars, trucks, and SUVs. Whether you're looking for a reliable sedan to get around town or a rugged 4x4 to tackle rough terrain, our extensive inventory has something that's perfect for you. Let's take a closer look at all the benefits of shopping with us.
Benefits Of Shopping With Us With Aaron CDJR
Wide Selection Of Makes And Models
At Aaron CDJR, we offer an incredible selection of makes and models from some of today's top car manufacturers, including Chrysler, Dodge, Jeep, and RAM. We have vehicles ranging from subcompact cars to full-size pickup trucks, so whether you're looking for an efficient city commuter or a heavy-duty hauler, we have something that's just right for you.
Competitive Financing Options
At Aaron CDJR, we want to make sure that all our customers can afford the car they deserve. That's why we offer competitive financing options that are designed to fit your budget. Our team of finance professionals will work with you to find an ideal payment plan that meets your needs without breaking the bank! We also have lease deals available on select models, so you can drive away in the car of your dreams without making a long-term commitment.
Friendly Customer Service
From start to finish, we strive to make sure that each and every customer feels welcomed and respected during their visit with us. We value your time and will do whatever it takes to ensure that you have an enjoyable experience while shopping with us. So what are you waiting for? Stop by Aaron CDJR today and find the car of your dreams!
Make And Models Available At Aaron CDJR
At Aaron CDJR, we carry a wide selection of new and used cars from some of the top brands in the world. We offer everything from sporty sedans to family-friendly SUVs. Our knowledgeable sales team is dedicated to helping you find the car that best fits your needs.
Whether you're looking for a reliable commuter vehicle or an adventurous off-roading SUV, we have something for everyone. Our inventory includes popular models such as the Chrysler Pacifica, Dodge Journey, Jeep Cherokee and Grand Cherokee. We also offer plenty of muscle cars, including the Dodge Challenger and Charger.
We understand that each customer has unique needs when it comes to buying a car. Furthermore, we understand that each customer has unique needs when it comes to buying a car. That's why our sales associates work hard to answer all your questions and make sure you find a car that meets all your needs.
What Makes Our Car Dealership Unique Over Others
Aaron CDJR is a car dealership that stands out from the rest. We are dedicated to offering an exceptional car buying experience while providing customers with superior customer service. Unlike other dealerships, Aaron CDJR strives to offer the best deal on all of the cars and works hard to ensure that each customer leaves satisfied with their purchase.
At Aaron CDJR, we are committed to making sure that each customer has access to a wide selection of vehicles and tools in order to make informed decisions about the type of car they would like to buy. The staff at Aaron CDJR is knowledgeable about all of the vehicles and will answer any questions customers may have. We will also review each customer's financial situation before recommending a car that is best suited for them.
In addition to offering great cars at competitive prices, Aaron CDJR offers several extras that set it apart from other dealerships. These amenities include oil changes, extended warranties, and availability of car parts.
Ultimately, choosing to buy a car from Aaron CDJR means getting more than just a great vehicle at an unbeatable price; it is also getting peace of mind knowing that you now have access to superior customer service and added protections to help keep you on the road. With all that Aaron CDJR has to offer, it is easy to see why customers choose us over other dealerships.
Aaron CDJR is dedicated to providing customers with an unparalleled car-buying experience beyond just finding a new vehicle. We strive to provide superior customer service by understanding each customer's needs and budget before recommending vehicles.
Final Thoughts
So, when you are planning to buy your next car, keep Aaron JDCR in your mind. We have a huge collection of makes and models that will suit your budget and needs. Moreover, the benefits that we have discussed above should be more than enough to convince you that Aaron JDCR is the best place to buy your next car from. So what are you waiting for? Go ahead and give us a visit today!